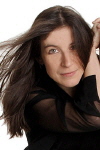 Saturday 10.08.2013 - Friday 16.10.2013
Summer Course for Recorder with Lucia Mense
at the Karmelitenkloster Springiersbach, Bengel / Germany
www.luciamense.de
Lucia Mense | Soloist, Chamber Musician and Pedagogue, Cologne
Harpsichord accompaniment: Alexander Puliaev
"As a musician cannot touch his listeners without being touched himself, he should be able to perform and figure all the effects he wants to evoke in his listeners." (C. P. E. Bach)
Target
Interpretation of baroque music according to the historical performance practise; sound shaping and articulation; musical rhetoric, effects and their performance; ornamentation.
In addition to individual lessons there will be the possibility to play chamber music with participants of the parallel courses for harpsichord, guitar and flute. You are welcome to bring your own choice of music. A list of proposals for chamber music can be send on request.
The course offers
• Individual lessons - repertoire for recorder solo/
recorder and harpsichord

• Technique lessons (altogether)

• Rehearsal with harpsichord accompaniment

• Chamber music lessons (optional)

• Recorder ensemble (optional)

• Training on how to perform in concert

• Tutors' opening concert

• Participants final concert
Info and application
Info- Flyer (PDF)
Application form (PDF)
The tutor
Lucia Mense - Recorder / Traverso player
www.luciamense.de, info at luciamense.de
Lucia Mense presently resides in Cologne, this after completing her studies in that city at the Hochschule für Musik as well as Milano and Amsterdam where she received a diploma from the Sweelinck Konservatorium. Her teachers have included Walter van Hauwe, Marijke Miessen, Günther Höller and Pedro Memelsdorff. Her repertoire encompasses works from the Medieval, Renaissance and Baroque periods, as well as the contemporary flute literature, which she is actively expanding and developing. She has given concerts throughout Europe, Russia, China and the United States as a soloist and as chamber musician. She has recorded for various radio stations in Germany as well as for CD labels such as Harmonia Mundi, Ars Musici, Los Angeles River Records, Mode Records/ New York and Touch Records/London. As chamber musician she is a member of Ars Choralis Coeln, Ala Aurea, Ensemble Dialog and Koan Trio. Lucia Mense has appeared at major festivals throughout Europe, both in the contemporary arena as well as in the early music arena. She has contributed articles to important journals and has taught at Universities and Conservatoires in Europe.